News
Trending Project Technology
March 9, 2015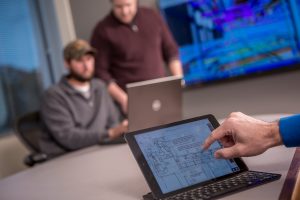 Staying nimble and accurate is crucial to success, and Egan Company project managers are seeking every edge available to make sure they're prepared to fulfill customers' needs. One strategy paying off exceptionally well is the use of tablets equipped with construction apps on project sites.
With this technology, field personnel are able to access accurate drawings and other important documents while looking directly at the feature of which they correspond. The tablets are also connected to a cloud-based server, meaning everything the foremen or installers are looking at is 100% current. As soon as an Egan Building Information Model (BIM) engineer adds a change or addendum, the information is automatically updated to the tablets.
There are several key advantages to adopting this technology. The first is the organization and spread of information is completely streamlined; there's no need to wait for new drawings or walk back-and-forth from a table to the building feature. The construction apps, like PlanGrid, also show what our field employees need to avoid when installing.
"The crew can actually fly through the model as if they were standing in the building," said Marty Verduzco, Egan Company Senior Project Manager. "It even shows the features from other trades where they will need to work around."
The benefits in time management and organization are substantial, but they pale in comparison to the technology's biggest advantage – reducing the risk of mistakes.
Oftentimes, renderings on paper will be very large and have to be located on a table away from the actual building space, or on a computer hidden away in a trailer. With tablets, there's no need to piece everything together by memory. And with instantaneous updates, there's no re-printing, no delivery, and no change-of-hand-process. The risk of having outdated materials lying around is virtually removed – literally.
There are few things more frustrating than installing a day's worth of material only to realize some small detail had changed and you need to re-do everything. By reducing mistakes, installers can help eliminate the possibility of re-work.
Since Egan began work at the 3M 280 Lab Building in Maplewood, Minn., there have been 37 addendums made to BIM drawings during the installation phase.
"Without this technology, it would have been practically impossible to get all the changes to the field efficiently," Verduzco said.
The tablets work as tools to strengthen the connection between the installers/foremen onsite and the BIM engineers in the office. Right now they are being implemented sparingly, but as more positive feedback rolls in, the trend of usage will likely spread.
"Having this technology onsite helps to realize the full potential of our BIM engineers and our CAD software," said Nick Ziegler, Egan Company BIM Group Manager. "It makes communication easier, and the easier an installer/foreman and an engineer can understand each other, the better a project can move forward with speed and surety."