News
Progress for Vital Research
August 28, 2015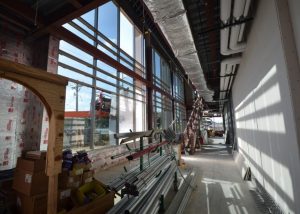 Southern Minnesota is a recognized leader in providing top quality healthcare with the Mayo Clinic Health System and various medical research facilities scattered throughout. Nietz Electric, a brand of Egan Company, is at the forefront in providing electrical work to the area, including a recent project for Hormel Institute's cancer research facility in Austin, Minn.
The Hormel Institute is a biomedical research center focused on the prevention and control of cancer and other chronic diseases. It is funded by the Hormel Foundation and an official research unit for the University of Minnesota.
Nietz and McGough Construction began a 74,000-square-foot addition to the existing facility in October 2014, enabling the Hormel Institute to become a part of the emerging Bioscience Corridor in Southern Minnesota. The expansion will provide new facilities for elite scientists and doctors to continue cancer research.
This project includes a three-story addition that adds 20 state-of-the-art cancer research laboratories, each ran by individual doctors. The expansion doubles the number of available labs and is also LEED Gold Certified.
"We have extensive experience on healthcare-related projects, so this project is right in our wheel house," said Bob Gransee, Nietz Project Manager. "Each research lab has its own electrical panel so each can be an independent, stand-alone research lab with its own staff and funding source."
Low-voltage electrical will be completed, including fire alarm, voice/data, and security systems. All work is also being completed while the existing building is currently occupied, making some elements of the project difficult.
"It has been challenging for us to perform shutdowns—in order to tie new panels into the existing circuits—while still having the building in full operation," said Dean Hogstad, Nietz Foreman.
The project is scheduled to be completed in November 2015. In order to meet this deadline, Nietz prefabricated many elements of the electrical infrastructure to save time and money.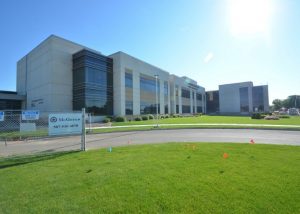 Nietz was also awarded a 250-seat auditorium and multifunction room on the same campus. This lecture hall will become the new Live Learning Center and will feature up-to-date communication technology for broadcasting and online conferencing. The goal is to provide a place for researchers to participate in presentations and discussions with other scientists from anywhere in the world.
The Hormel Foundation, Mayo Clinic, and University of Minnesota are collaborating in order to make this Bioscience Corridor a reality for the State. Focusing on bioscience and medical research helps to spur economic growth in other major Minnesota cities, like Rochester or Austin, and attract a variety of potential employees to the area.
Core Project Team: McGough Construction, The Hormel Foundation, Mayo Clinic, University of Minnesota
Egan Services Performed: Electrical infrastructure, low-voltage electrical, fire alarm, voice/data, and security systems. 