News
What Are The Benefits Of A Preventative Maintenance Agreement?
August 12, 2021
A maintenance agreement provides you with the peace of mind that your facility will remain in good working order. By implementing a preventative maintenance plan, a relationship is strengthened between customers and Egan Company as a service provider to complete routine maintenance.
Preventative maintenance agreements are similar to a vehicle's oil changes – dependent upon a time or usage interval, you service them to ensure they are working correctly. Changing the oil in a vehicle ensures that it will continue working properly; similarly, preventative maintenance keeps elements of your facility working properly.
BENEFITS OF PREVENTATIVE MAINTENANCE AGREEMENTS:
Preventative maintenance largely increases reliability. By keeping your equipment in good condition, efficiency and lifespan are both improved. Doing so decreases potential unscheduled downtime of equipment, keeping your operations moving.
Service agreements also increase long-term cost savings. While the upfront costs may be more expensive, having a preventative maintenance agreement in place will save money in the long run when repairs are needed. Also, costly downtime is decreased as many potential problems are identified and fixed during regular maintenance servicing.
In the event of an emergency, customers with maintenance plans are always prioritized and receive immediate attention.
Routine maintenance increases workplace safety overall by ensuring that equipment is working correctly.
Finally, preventative maintenance agreements assure code compliance and adherence to required inspections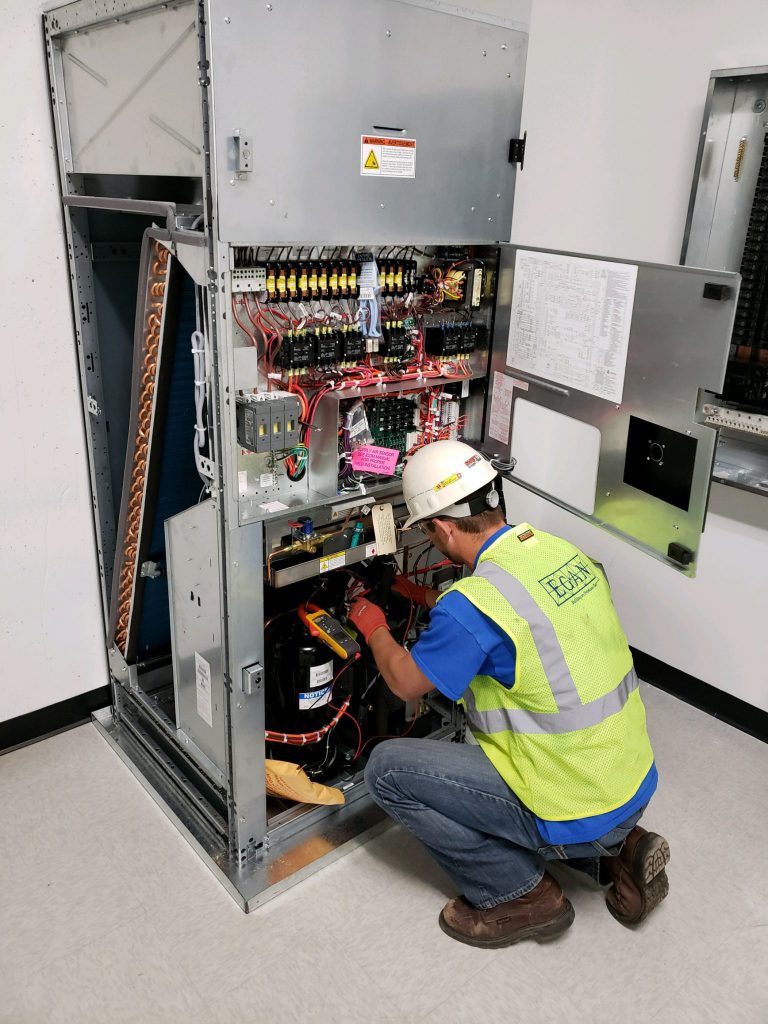 PREVENTATIVE MAINTENANCE AGREEMENT VARIETIES:
At Egan Company, our preventative maintenance agreements cater directly to the needs of your facility. With the advantage of multiple union trades under one roof, we are able to provide you with a comprehensive maintenance agreement including:
Boilers
Building automation systems and energy services
Electrical
Fire / life safety inspections
Mechanical and HVAC
Multi-trade
Plumbing and drain cleaning
RPZ
Security
Look to Egan Company for your preventative maintenance plan. Our expert team will enhance performance, reduce costly downtime, and extend the lifespan of your equipment. Preventative maintenance programs are in place to inspect, test, and replace the products in your facility, keeping building inhabitants safe.