News
Multi-trade, in-house advantage
June 10, 2016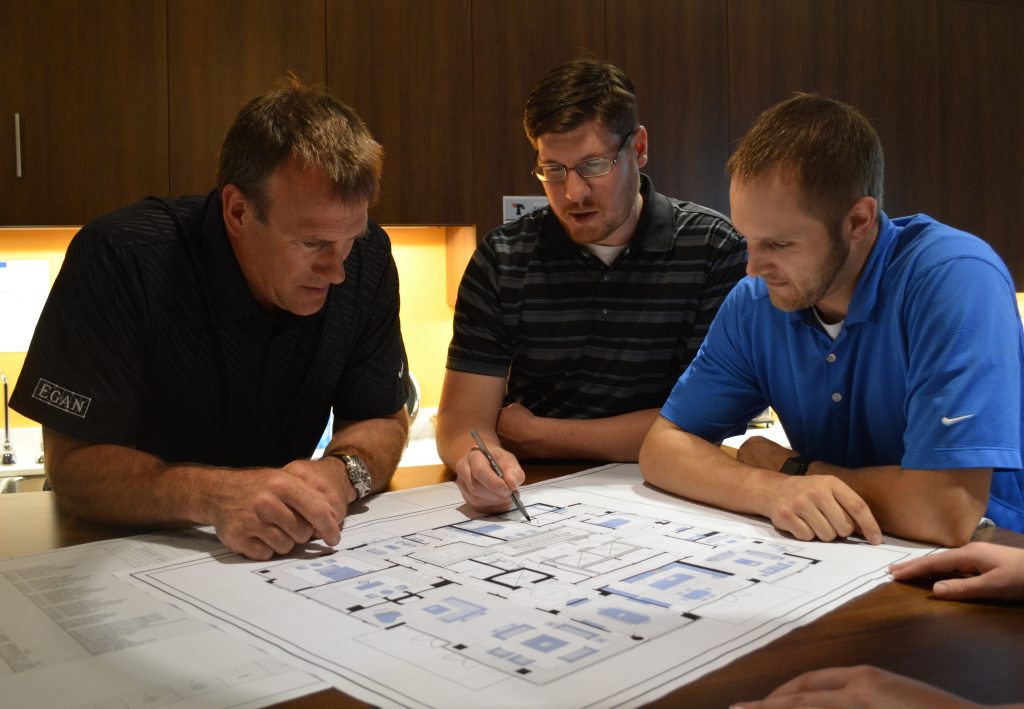 When it comes to Egan Company's new Champlin facility, collaboration is the name of the game. With the consolidation of four metro offices into two – the new Champlin location and corporate office/shops in Brooklyn Park – more Egan employees are now able to work together under one roof. The result is improved production and work-flow; and the benefits are seen no better than in the renovation process itself, during which Egan was able to experience its own capabilities first-hand. The renovations began soon after the purchase of the building, starting in September 2015. By the end of the project, Egan had completed 75 to 80 percent of the retrofit in-house.
"We, as Egan, became the customer," said Duane Hendricks, Egan Company Chief Operating Officer. "On completion of the project, we found that integration of all specialty trades was an advantage we were glad to have experienced ourselves."
The 180,000 square foot facility comes in addition to Egan's company headquarters in Brooklyn Park, Minn. and its Southern Minnesota offices in Rochester and Austin. It has increased the size of Egan's shops, including:
InterClad curtainwall and metal panels fabrication –  30% more floor space with 50% more capacity
U.L. 508A Panel Shop – doubled in size
Electrical fabrication – tripled in size
Garage – two and a half times the size of previous location
Tools and warehouse – tripled in size and now have more loading docks for shipping and receiving
Space updates include the addition of collaborative workspaces and training rooms that can seat up to 100 people. Flexibility for extending the timeline created additional space for potential future expansion – an open 9,000 square feet for office space growth, as well as an additional 18,000 square feet for shop expansion in the future.
"This was a large undertaking we're proud we were able to complete," said Hendricks "This is the uniqueness of Egan… the ability to not only renovate a large manufacturing plant to specifically fit our needs, but to also successfully integrate systems within our own space. We're very proud of this single-source offering."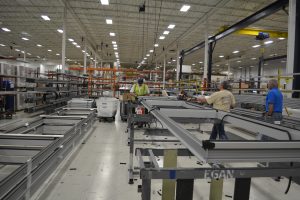 The decision to buy the manufacturing plant was made not only to meet growing needs, but also in order to provide customers with a more seamless delivery and overall experience, starting with Egan's Tom Buirge – the construction manager who was appointed the 'single point' on behalf of all trades on the renovation project. Having an Egan project leader coordinating all trades helped ensure deadlines were enforced, but also created flexibility with timelines.
"What was great was working with Tom [Buirge] and the access he had to the project decision makers," said Chris Ruhl, Egan Company Mechanical Field Leader. "We received immediate feedback when changes were needed so we could maintain our schedule."
Ultimately, this consolidation/expansion serves to further strengthen Egan's offerings as a single-source for specialty trades and systems integration.
"We have been able to bring many of our teams together, making collaborative work easier all around," said Jim Malecha, Egan Company President & CEO. "Coming together in a larger space opens up all kinds of possibilities and, all-in-all, has benefited all facets of our business."
Egan's Specialty trades work Performed:
Mechanical: demolition of plumbing and HVAC, removal and replacement of 12 existing rooftop units with three larger units, renovation of existing air piping, installation of air piping in new shops, rework of air systems for garage.
Electrical: lighting and power for the build out warehouse space, natural gas generator, installation of new office fixtures as LED lighting.
Curtainwall/Glass/Glazing: new interior and exterior signs, window repair, bathroom mirrors, and glass walls.
Millwrights: installation of new bridge crane, relocation of all new/existing shop equipment, and all new/existing material/equipment racking.
Building Technology Integration: building automation system, fire alarm, card access, CCTV, intrusion security, paging, sound masking, voice/data/fiber optic, video intercom, projectors and screens, audio/visual.