News
Improving the Travel Experience
November 1, 2016
Have the ultimate travel experience – in the airport. Many airports are focusing on traveler satisfaction and adding new features to their facilities to improve the overall experience. Minneapolis-St. Paul International Airport (MSP) is doing this by taking building automation system integration to the next level.
Previously, MSP had disparate systems that functioned separately and required a lot of maintenance. For the past few years, Egan Company has helped merge these systems into one open architecture platform so various divisions within the Metropolitan Airports Commission (MAC) can operate more efficiently.
In addition to centralizing disparate systems, Egan is working to install a new Wastewater Information Display System (WIDS) in select Terminal 1 restrooms. This system enables MAC to automate many processes and eliminates the need for unnecessary walkabouts.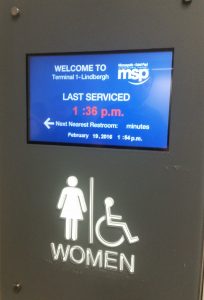 The new system includes thermal people counters in doorways to keep track of the number of people who enter the bathroom. After a certain number of people have entered the bathroom, the display outside the bathroom switches into "clean mode" and it alerts MAC Facilities to assign an employee to clean it.
While the bathroom is in clean mode, the display tells travelers that it is closed for cleaning and where the next closest bathroom is located. The WIDS interfaces to the security system so card swipes by MAC Facilities places the restroom into clean or normal mode.
Advanced mechanical systems were also installed that adjust delivered and exhausted air depending on what mode they are on – unoccupied, occupied, or cleaning. Motion sensors are used to increase the ventilation rates when the restrooms are in use and to reduce ventilation when vacant. During cleaning mode, the ventilation rates are set even higher to diffuse the odor of cleaning products. This results in energy savings for the airport.
"The ventilation system and thermal people counters are newer technologies that improve the traveler experience," said Ryan Haller, Egan Company Engineering Manager. "If you go to an airport and the bathroom is smelly, that's all you're going to remember. The WIDS helps alleviate some of those issues."
Egan also monitors other components of the restrooms and provides alarms to the appropriate MAC department when the system requires, including the hot water system and lighting loads when lamps or ballasts need replacing.
In total, Egan has installed the WIDS in three newly renovated bathrooms and retrofitted the system in two additional bathrooms, located in Concourses C, E, and F. A sixth one located in the main terminal will be completed later in 2016.
Core Project Team: Metropolitan Airports Commission, Michaud-Cooley Erickson, Morcon Construction, Kraus-Anderson
Egan Services Provided: Retrofit and new installation of building automation system, Wastewater Information Display System, thermal people counters, advanced ventilation systems.