News
Faster Production For Specialty Beverages
May 1, 2018
Since 1874, Cold Spring Brewing Company has been producing and bottling beer and craft brews for the Midwest. Most recently, this nearly 150-year-old brewery has expanded its product production to include bottling tea, soda, energy drinks, and more – quickly becoming the number one specialty beverage producer in the U.S.
To keep up with the demand for specialty beverages, Cold Spring Brewing started a two phase project to expand storage capacity and increase production with the installation of a fourth production line dedicated solely to specialty beverages.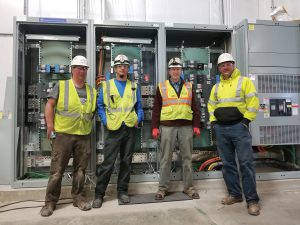 "Egan's electrical team has partnered with Cold Spring Brewing in a maintenance capacity for many years," said Randy Kalthoff, Egan Company Project Manager. "And we were excited to take on this new project – especially since many of us on the team are from the Cold Spring community."
The first phase of the new storage and production line was completed last November and included a new 211,000 square foot warehouse to store the bottled production before distribution. Egan's team completed the LED lighting installation and worked with Kinghorn Construction for both phases of construction.
"This job has had its challenges that were immediately taken care of by Egan," said John Kinghorn, Kinghorn Construction Project Manager. "As soon as we got Egan the right information and instructions, they've been able to handle any situation."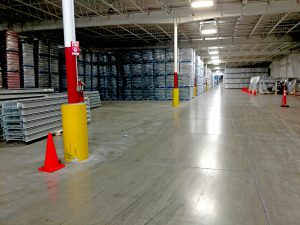 Connecting the shipping and receiving building with the newly completed warehouse, the 30,800 square foot production area has one new production line and the ability to fit an additional production line for future expansion. Scheduled to be completed this summer, the production line has the capacity to bottle 1,600 16oz. cans and 2,000 12oz. cans every minute and produce a completed pallet of specialty beverages every 50 seconds.
Egan was tasked with ensuring all of the production line systems were properly wired and integrated so the equipment can communicate and run efficiently. Egan's process and controls team specializes in the wiring and integration of elaborate network systems and production lines, and is adept at taking multiple pieces of equipment without a design or blueprint for connection and wiring them to the speed and efficiency needs of the customer.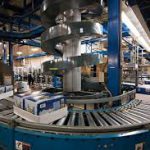 The new, fully automated production line process wired by Egan takes empty cans from the pallet, high heat water rinses the can to kill any bacteria, fills the can with the specialty beverage, seals the cap on the cans, final high heat water rinses to kill any additional bacteria, and boxes and palletizes for distribution.
"We've had a great partnership with Egan over the years," said Andy Paavola, Cold Spring Brewing Maintenance Manager. "That has definitely helped this project go really well – and, it's been great working with Randy [Kalthoff] and his team again."
Core Project Team: Kinghorn Construction Company, Cold Spring Brewing Company, HTG Architects
Service Provided: exterior and interior LED lighting, 3000 amp electrical service, lighting control and distribution system, mechanical equipment wiring, general purpose power wiring, audiovisual conduit system
(Pictured above L to R: Egan Electricians Dan Weber, Kristopher Durand, Dennis Belanger, and Derrick Frank)