News
Egan Tackles Crohn's and Colitis
September 10, 2016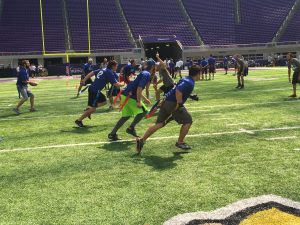 Egan's C&C Defeaters were ready for some football at the A Touch of Football for Crohn's and Colitis event! Hosted at U.S. Bank Stadium, a team of 14 Egan employees were invited to play flag football with other recreational and competitive teams.
Many of the teams were companies that helped contribute to the construction of U.S. Bank Stadium, including Mortenson Construction and Ames Construction.
Although Egan didn't win in the recreational league, all money raised was used to help find cures for Crohn's disease and ulcerative colitis, conditions that affect 1.6 million Americans.