News
DISCOVER EGAN: SPYDERCRANE
November 17, 2020
Innovation and safety is the name of the game with Egan's utilization of the new SpyderCrane mini lift. Identifying a need to install glass in a different way than before at a high-rise project, Egan's InterClad and Safety teams brainstormed possible options. The innovative and compact SpyderCrane was the solution that fit the installation needed in the confined working area.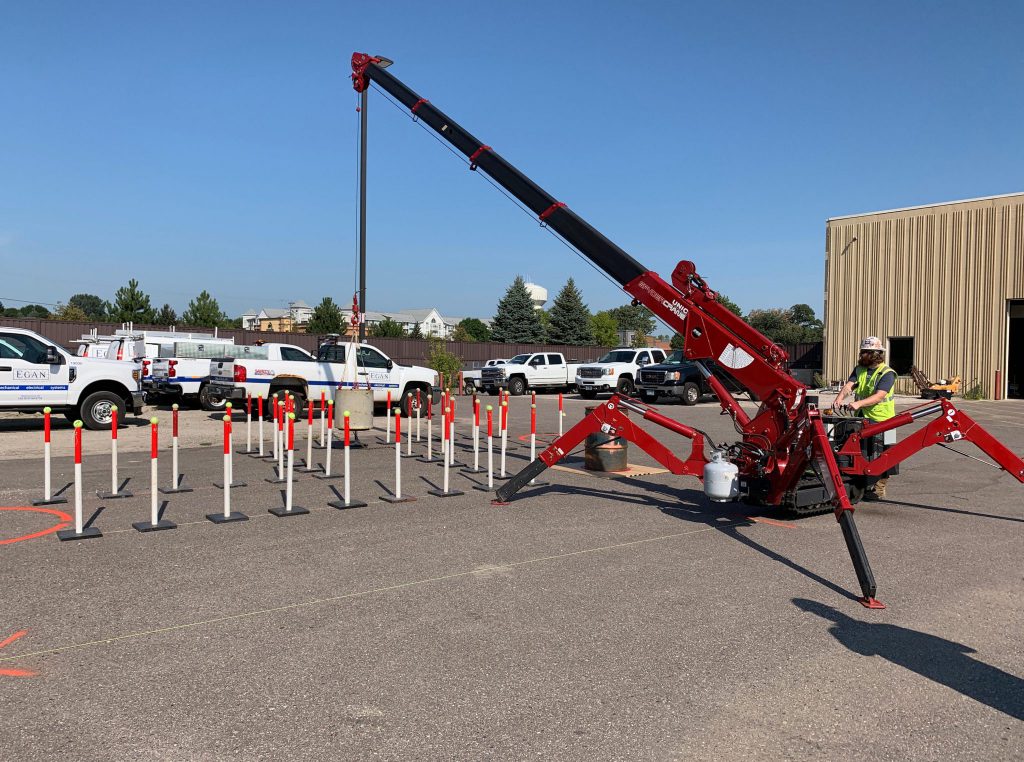 "Typically, Egan's InterClad team utilizes a ground crane to install glass and windows in large high-rise buildings," said Jason Lindula, Egan Company Safety Manager. "We now use the SpyderCrane to reduce material handling, create a safer installation process, and provide an opportunity for a smaller crew size."
On a high-rise project jobsite, imagine the SpyderCrane on level six, two Egan employees on level five, and two Egan employees on level four. The SpyderCrane lowers the glass into place from above, allowing the Egan crews on the lower levels to install the glass into place quickly and safely.
Specifications of Egan's SpyderCrane:
Capacity to lift 2,000 lbs.
Variable Geometry Outriggers – allows for lifts in tight spaces
Remote control and pressure sensitive controls
Narrow track width and low center of gravity
We're still working out the kinks of utilizing a new piece of equipment," said Ryan Woodruff, Egan Company Vice President. "But the SpyderCrane's ability to install glass in tight spaces while we utilize additional installation tactics in other areas ensures we're staying on track for the overall project.
With one SpyderCrane already active on a jobsite, a second SpyderCrane will be arriving soon for use on additional jobsites where confined installation is needed. The precision and safety of the SpyderCrane mini lift provides Egan an opportunity to increase accuracy and ensure safety while continuing to install glass on even the tallest high-rise buildings in the Midwest.