News
America's Safest Companies Distinction
December 18, 2020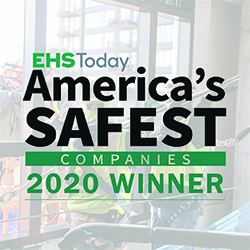 Recognized for its ongoing commitment to worker safety and health, comprehensive training programs and risk management efforts, and a lower than industry average injury and illness rate, Egan Company has once again been named one of America's Safest Companies.
EHS Today named 10 organizations to the 2020 list of America's Safest Companies, including firms with a few dozen employees to multinational corporations with tens of thousands of employees. Together, these organizations all have one thing in common: to provide a safe working environment for their employees.
Being named one of America's Safest Companies is a tremendous honor!" said Reid Romer, Egan Company Safety Director. "When I think about safety at Egan, I think about our people. Our dedicated teams enable us to progress along our journey to safety excellence and to continue to grow, evolve, and excel safely within our organization. I am so proud of what we've accomplished together. I believe the best is still to come.
Within Egan, a safety department was first established in 1986. Having been founded in 1945, it may surprise some that Egan had gone over forty years without a dedicated safety program. Today, Egan maintains an ongoing, aggressive commitment to provide all employees with a safe and healthy place of employment.
"We have a true 'Safety Culture' at Egan Company. Everyone believes in our safety programs and is acting and responding to do our work in the safest way possible," said Duane Hendricks, Egan Company President & CEO. "We have good safety results because of our many safety initiatives and the involvement of everyone. This sets us apart and keeps our people focused and safe."
Egan continues to move forward in the belief that work-related injuries are preventable, but we can never claim to control all the variables. What we can control is how we collectively work together and support each other to promote safety.
"We do not focus on our safety for an award, we focus on safety to keep our people safe. But it is exciting to know Egan is recognized for safety once again!" Hendricks adds.
All award recipients were honored at EHS Today's Virtual Safety Leadership Conference on November 10. A feature was published in a special section in the November issue of EHS Today magazine (read more here).