November 14, 2017
Since 1946, a Minnesota manufacturing facility has relied on the same two synchronous motors to power its plant. But now, after 70 years, the time has come to get an upgrade. Egan provided its expertise in constructing the electrical installation of two, newer, more modern squirrel cage motors at the manufacturing plant.
"Given the age of the motors, the price to replace instead of repair them was actually more cost effective," said Paul Meier, Egan Company Project Manager.
Facts about the motors:
The synchronous motors had a voltage rating of 2300 volts and ran at a constant rate of 200rpm. These have now been replaced with modernized conventional motors that can function up to a rate of 1800rpm.
In addition, the new motors have a voltage rating of 480 volts. With the help of gear reduction, they can still maintain the desired rate of 200rpm while providing much less stress on the machine.
The horsepower of the synchronous motors was 350hp and 500hp while the new motors are each 400hp.
Lastly, the new motors are half the size! The synchronous motors towered at seven feet high while the squirrel cage motors stand around three feet.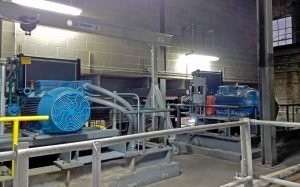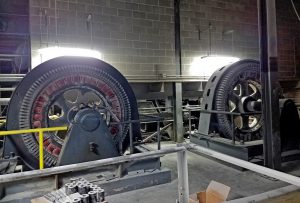 Pictured above: old synchronous motors (left) and new squirrel cage motors (right)
Egan's team provided all pre-installation wiring of distribution gear and soft starters for the project. The soft starters temporarily reduce the load and torque of the power and electrical surge of a motor during start-up. In turn, this reduces the mechanical stress on the motor and shaft, which extends the lifespan of the system.
"The soft starters for these motors are an important piece to this project," said Meier. "These will be a big factor in the longevity of the new systems."
In addition, Egan helped coordinate the facility shut downs to install each of the motors. This included the logistics and functionality of allowing the facility to run off of one old motor and one new motor congruently in-between the two shutdown periods.