News
Intelligent Building Consulting Firm Joins Egan
February 9, 2016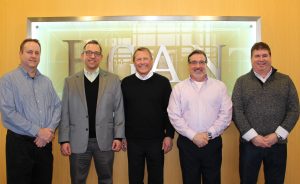 MINNEAPOLIS, MN (February 19, 2016) – Specialty trade contractor Egan Company announces the asset acquisition of intelligent building consulting firm TekNecks based in Minneapolis, Minn. TekNecks offers varied information technology services to commercial properties.
"TekNecks and Egan have a long history of working together," said Michael Kohn, former TekNecks owner. "I'm excited to continue to develop our unique systems of technology delivery and network management and present these offerings to current and new customers. This 'joining of forces' is a natural fit. Both Egan and TekNecks have an opportunity to expand our services together and experience great growth."
With the merger, Egan Company will continue to be a leader in the intelligent building and information technology industry in the Twin Cities. "TekNecks expands Egan's intelligent building services, and offers a specific service that Egan wasn't able to deliver before," said Jeff Hawthorne, Egan Company Senior Vice President. "TekNecks will help us offer complete property management and IT network services – from conception to completion, and we have eliminated the need for customers to hire multiple contractors for maintenance."
TekNecks' three employees will office within Egan Company's Brooklyn Park, Minn. facility, but will maintain the TekNecks presence in Downtown Minneapolis.
About Egan Company:
Egan Company is a specialty contractor that represents over 15 skilled trade unions serving virtually every infrastructure discipline in the industry. Core services include: electrical, mechanical, curtainwall/glass (InterClad), millwrights, controls and system integration, building automation, and service. Egan serves every stage of a building and provides in-house expertise in planning, design, engineering, construction, and maintenance.
Media Contact:
Jessica Johnson
jkjohnson@eganco.com // 763-595-4310
# # #