News
Why Hire a Union Contractor?
May 11, 2021
Hiring a union contractor presents a number of benefits, all of which ensure project needs are exceeded. By relying on their relationship with the labor unions, union contractors are able to promise necessary resources and quality results. Hiring a union contractor, like Egan Company, allows you to tap into a wide pool of resources with high safety standards.
BENEFITS OF HIRING A UNION CONTRACTOR
Union contractors have an abundant labor supply of trained professionals who are skilled, safety-conscious, and experienced from apprenticeship programs that ensure first-rate preparation. These skilled trades personnel complete regular continuing education and frequently update their skill sets. Further, unions often employ market-specific craftspersons who are trained to excel in their expertise.
Quality union workmanship means projects are completed faster and there's room to implement innovative concepts in construction and building techniques. Workers are held to high expectations upon arrival beginning with showing up on time, prepared, and ready to work. They are qualified with the required skills, certifications, licenses, background checks, and clean drug test results that are not guaranteed with a non-union contractor.
Beyond their trade skill, union foremen and supervisors are trained on leadership, customer service, and project planning and layout skills to adapt to the needs of each project schedule.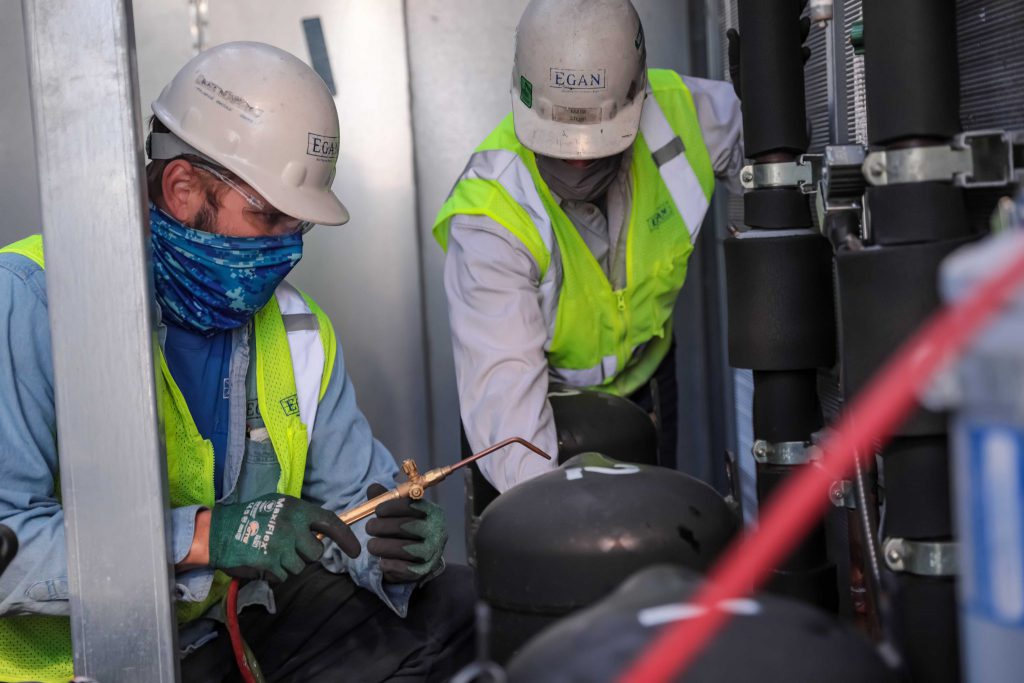 Union contractors are safety-oriented and as such, the risk or rate of injuries is greatly decreased. The health and safety of workers has always been a large concern of unions, which ensures that standards and regulations will be followed. As a further result of members' training, they are proficient in assessing safety hazards.
Operating as a union contract for over 75 years, Egan is affiliated with several union partners in Minnesota, amongst other states. By working with these unions, Egan can continue to build on promises kept by providing safety-oriented, well-trained workers. The IBEW Code of Excellence is upheld across all of our jobs.
Local 6 – Rochester Plumbers/Pipefitters
Local 10 – Sheet Metal Workers
Local 15 – Minneapolis Plumbers
Local 22 – Nebraska Electricians
Local 34 – St. Paul Plumbers
Local 49ers – Operating Engineers
Local 110 – St. Paul Electricians
Local 160 – Lineman
Local 242 – Duluth Electricians
Local 292 – Minneapolis Electricians
Local 343 – Rochester Electricians
Local 455 – St. Paul Pipefitters
Local 512 – Ironworkers
Local 531 – North Indiana Electricians
Local 539 – Minneapolis Pipefitters
Local 548 – Millwrights
Local 553 – North Carolina Electricians
Local 1091 – North Dakota Millwrights
Local 1324 – Glazers & Glassworkers
Local 1426 – North Dakota Electricians